Year End Review for Lionfish University
December 31, 2019
Lionfish University Reporter, Roger J. Muller, Jr.

Recently friends and Lionfish University founders, Stacy Frank and JV Hart asked me to send them a report of what I had been working on during the past year for Lionfish University. Below is a general report on all of the shopkeepers I've interviewed, as well as the locations where I have hunted, and educated folks about the lionfish invasion.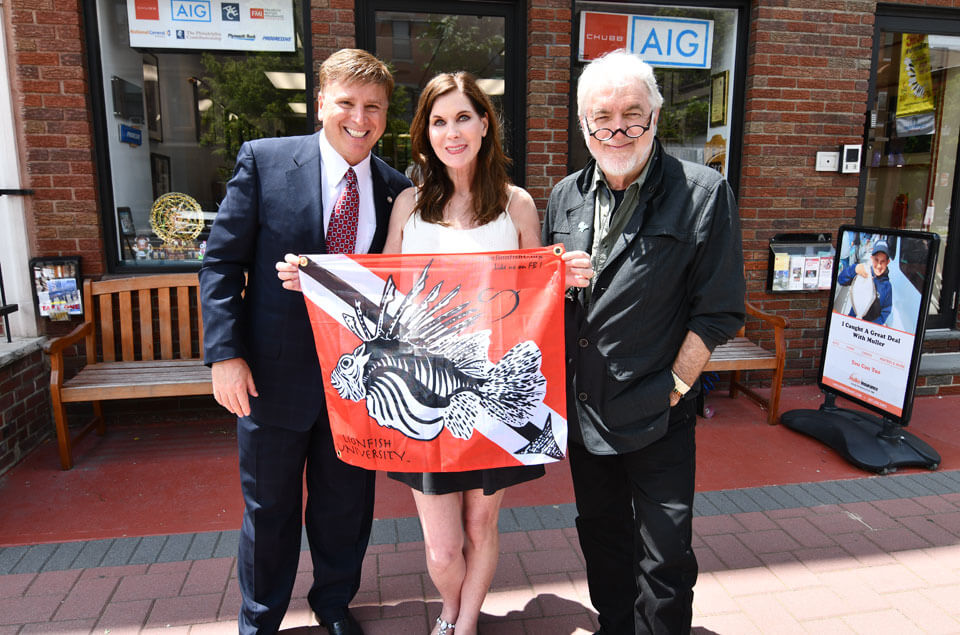 My goal for the year 2019, was to kill as many Lionfish as possible as an International Lionfish Hunter, and educate the public by spreading the word about Lionfish University and their mission to help combat the negative impacts of Lionfish, which are an invasive species in North America. Lionfish University is a group dedicated to preserving our oceans' reefs and native fish populations, which are threatened in the western Atlantic, the Caribbean, and the Gulf of Mexico by invasive Lionfish. Stacy and JV formed this non-profit to share information and resources relating to the infestation of this invasive species. Their goal is to raise awareness of the importance of maintaining these fragile ecosystems in the global community, and to fund efforts to mitigate the devastating effects of this invasive species.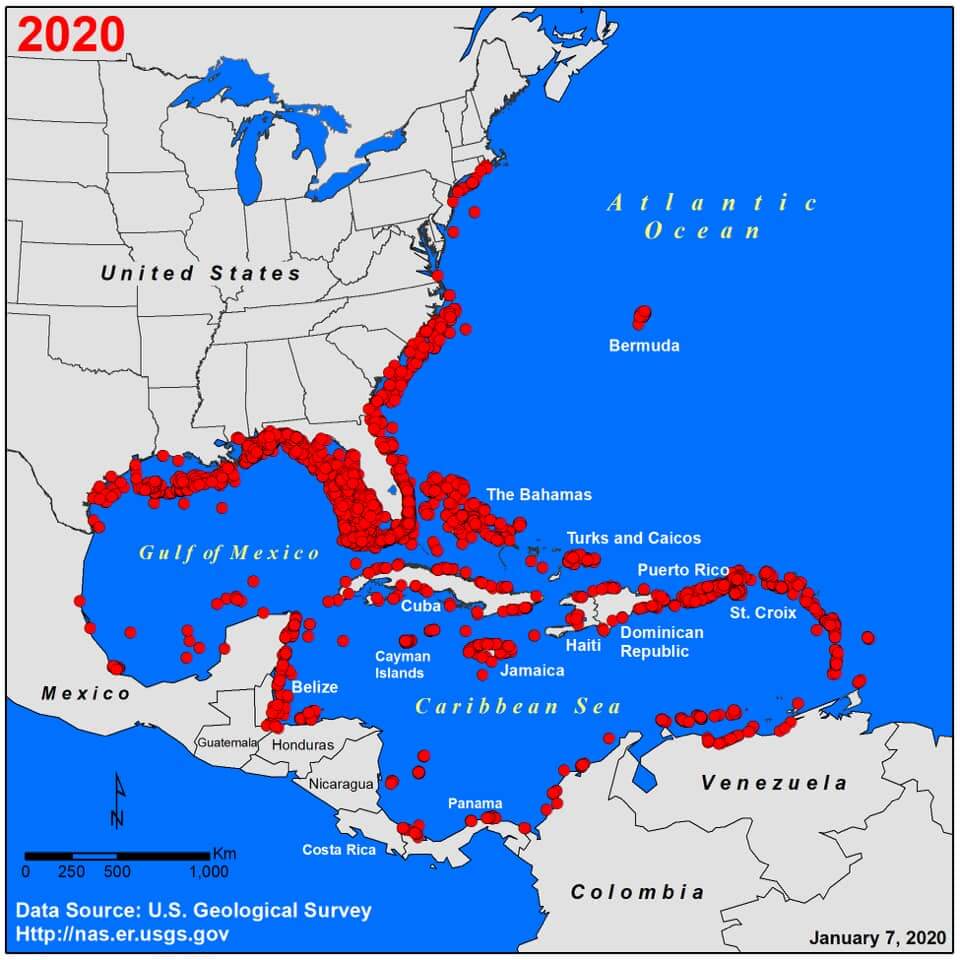 November 2018: Westmoreland, Jamaica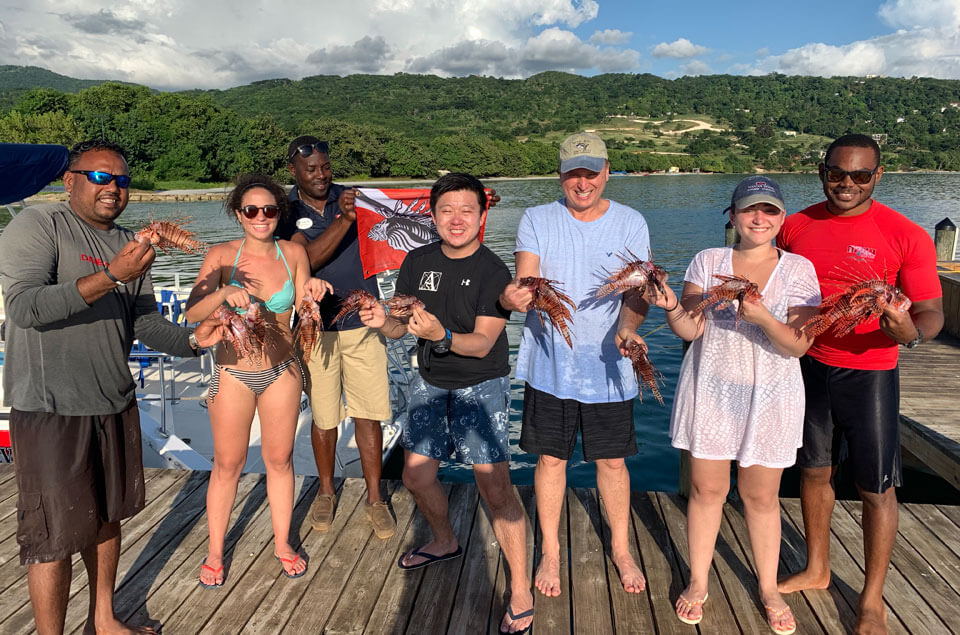 Alton, Williams, Kelsey, Riccardo, Chris, Roger, Taylor & Garth
I was lucky to spend Thanksgiving 2018 with my family diving for Lionfish in Westmoreland, Jamaica. We participated in a family Lionfish hunting tournament. Instructor Everett Forbes and Kelsey teamed up with her fiancé, a recent Harvard Business School graduate, Chris Sun, who was certified a few months before by my friend and instructor Kim Hanson of DiveTech in the Grand Caymans. Taylor Muller was my Lionfish hunting partner with Instructor Garth McKay. Kelsey, Chris and Everett won the dive 9-8! See the family Lionfish hunting video here.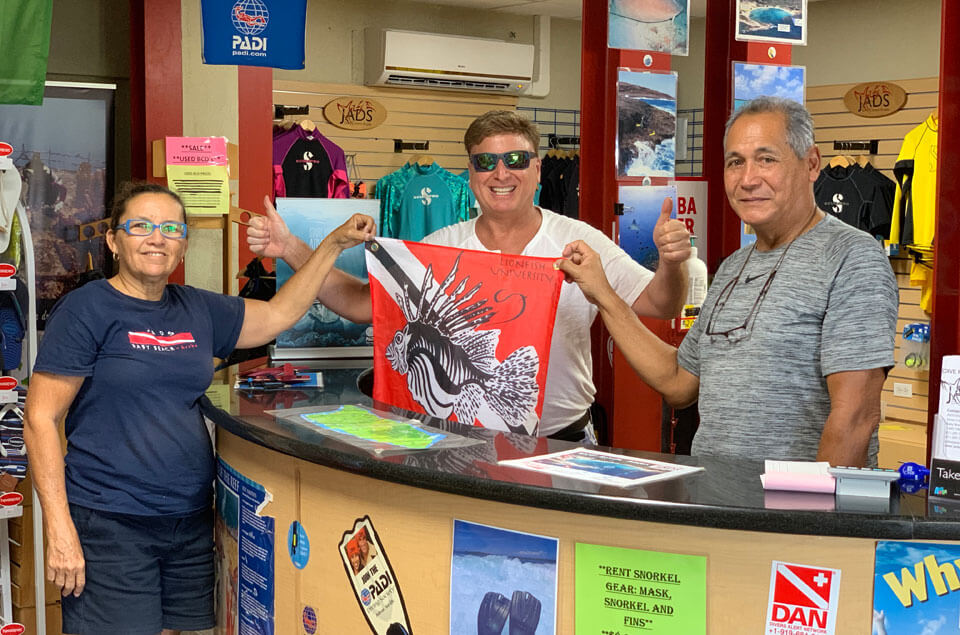 In January 2019, while in Aruba for a few weeks, spreading the word about Lionfish University, I interviewed the following Lionfish friendly shops: Aqua Windies, JADS Dive, and Pure Dive Shop. All the owners were very nice and they all now understand the importance of helping Lionfish University remove Lionfish from Arubian waters.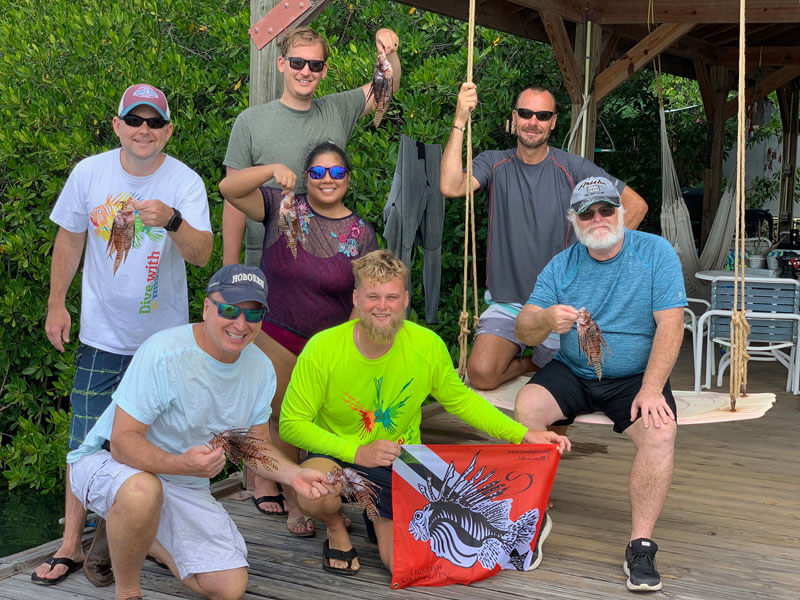 During this trip to Aruba, I spent a lot of time hunting Lionfish with Aqua Windies and Pure Dive, which had just opened up a few months before.
During my trip I also dove with my good friend Patrick Van Brakel, owner of Lionfish Snack Aruba on his birthday, February 5th. During this particular dive, we brought up 25 hearty Lionfish after diving the North coast. Shores dives in Aruba are definitely more productive, though a great amount of work. I do not recommend attempting a north shore dive without an experienced instructor, as the currents here can kill, unlike the calm waters on the south side of the island. More information on shore dives please visit: https://blog.padi.com/2016/03/16/5-tips-for-shore-diving/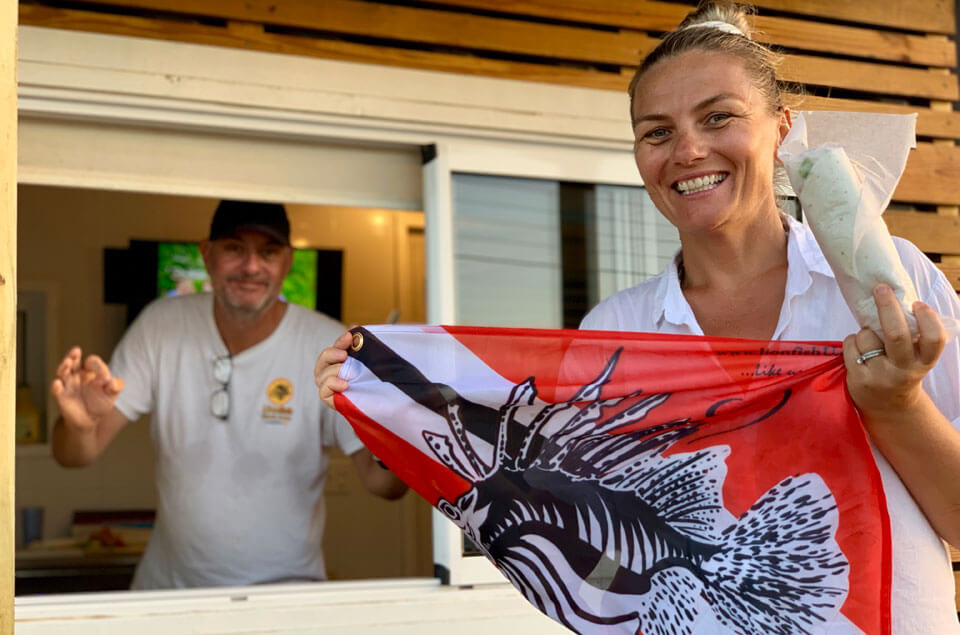 Before I left Aruba I also had the opportunity to dive with my friend Jared Casperson, who just became a Dive Master with Aqua Windies. We made a cool shore dive across a bay and then hiked over land and into the Ocean near the Valero Refinery in Saint Nicholas. We did not kill a large number of Lionfish, but we did remove a few larger sized Lionfish. We also dove Tire Reef where we killed many Lionfish.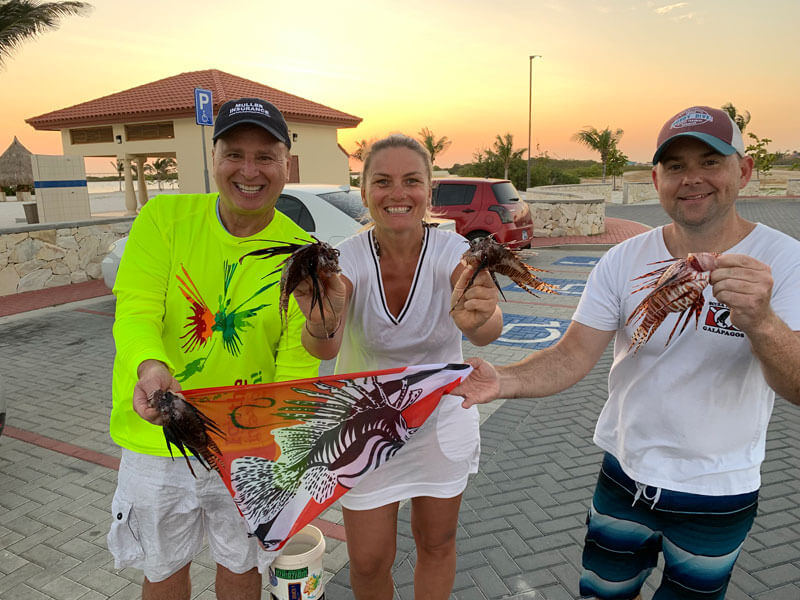 March 2019: American Littoral Society Article Featuring Lionfish University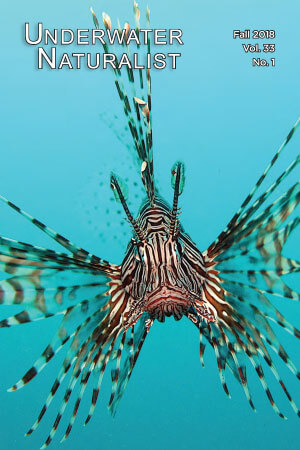 In March I wrote a 9 page Lionfish article for the American Littoral Society in New Jersey with the help of my daughter Kelsey M. Muller, who is also a professional diver (PADI Divemaster and Assistant Instructor) and is now in her last semester of Harvard Business School. The article included Lionfish University prominently.
April 2019: Grand Caymans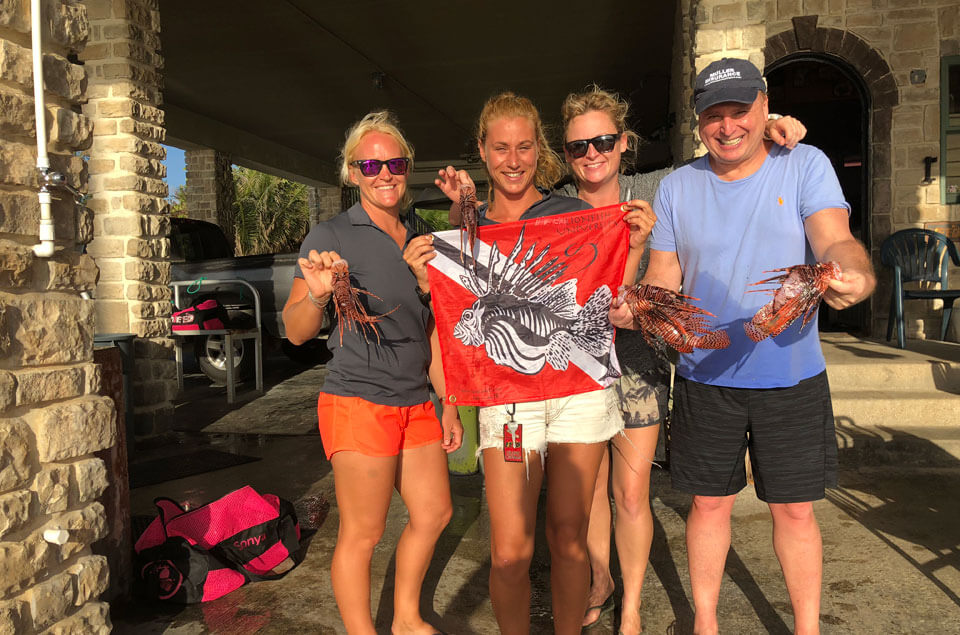 In April, I traveled to the Grand Caymans. While diving there, I promoted Lionfish University to DiveTech's owner Joanna Mikutowicz and my instructor buddy Kim Hanson. What a great Lionfish friendly shop they have in the West End. If you are going to dive for Lionfish in the Grand Caymans it is required that you take a Lionfish licensing course first. Kim was a wonderful resource in helping me through the course.  After I completed the course, I was allowed to use a one foot spear to hunt Lionfish. I enjoyed diving with DiveTech so much that I recommended my daughter Kelsey Muller and her fiancé Chris Sun to dive there as well when they traveled to the Cayman Islands. They had a great time and Chris became an Open Water PADI diver with Kim as his instructor at DiveTech. https://www.divetech.com/lionfish
May 2019: Emerald Coast Open Lionfish Tournament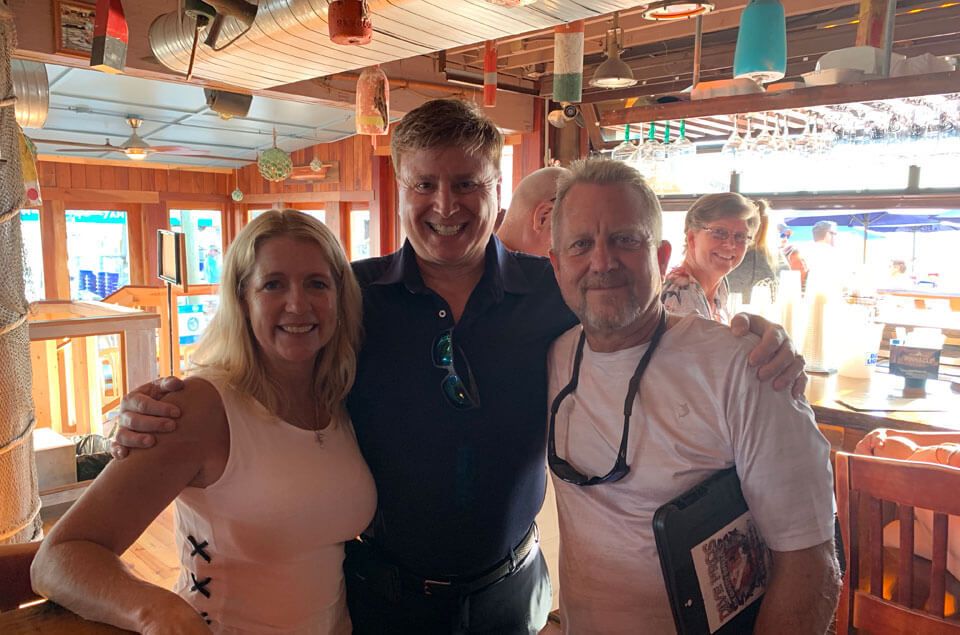 Captain Andy Ross & Kelly
This past May my business, Muller Insurance, became a Silver sponsor for the Emerald Coast Open, Lionfish Hunting Tournament, which was one of the most successful Lionfish tournaments ever in the world. My friends, Alex Fogg, Captain Andy Ross, Marshall Holtzclaw, and others ran a great tournament for two days. (Videos here.) I had the opportunity to hang out with JV Hart, and my long time friend from Sarasota, Allie El Hage of Zoo Keeper. In Destin, Florida I did a short interview with NOAA's, Dr. Steve Gittings about his Lionfish trap.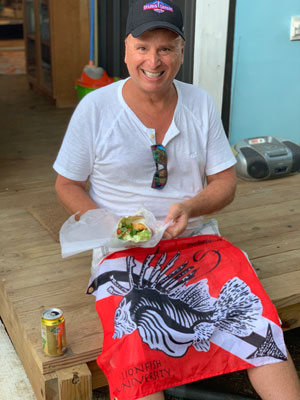 In July I went to a wedding at the Rui in Aruba for my office manager Terri Galiano, now Terri Lengen, who married a great guy named Ken.  After attending the wedding, I set aside time to dive with my friend Patrick Van Brakel, who owns Aruba Lionfish Snack Shack. He actually opened the restaurant while we were there in August. I had a wonderful Lionfish wrap on a Friday night with my wife Andrea and then went back the next day for lunch before we left the island. http://thelionfishsnackaruba.com/(myvideotour)
November 2019: Westmoreland, Jamaica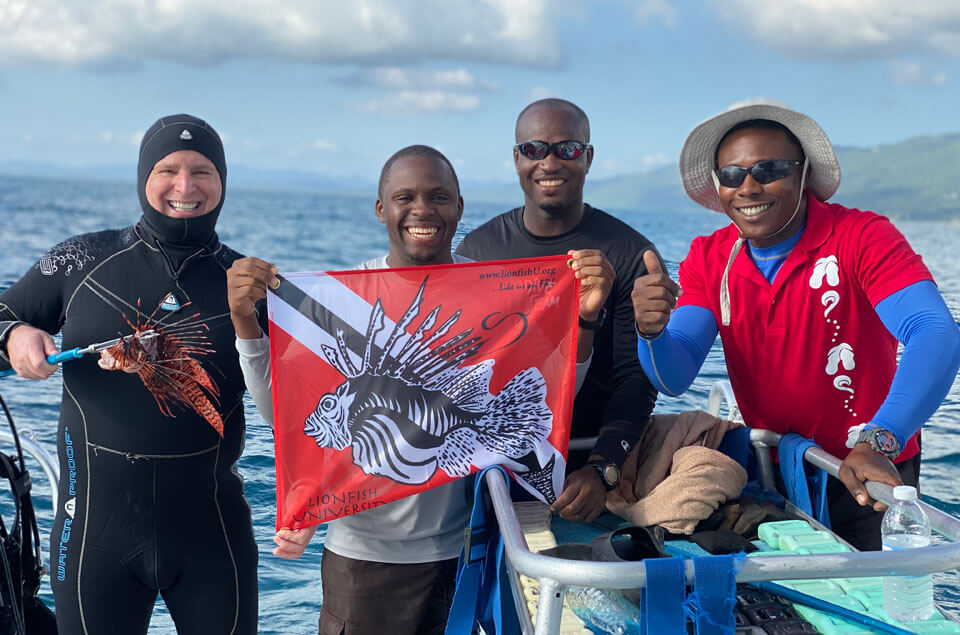 Jamaica Roger, Demane, Everett & Byron
I went back to Westmoreland, Jamaica for Thanksgiving again this year because I felt that I still had some more work to do in order to help alleviate the Lionfish problem there. I dove with my daughter Taylor again and her newly PADI Open Water certified friend Hana Alverina. Hana loved diving and looking for Lionfish with Taylor, Captain Alton Williams, Instructors Everett Forbes, Demaine, Divemaster Byron and myself.  She took some nice video of us spearing Lionfish.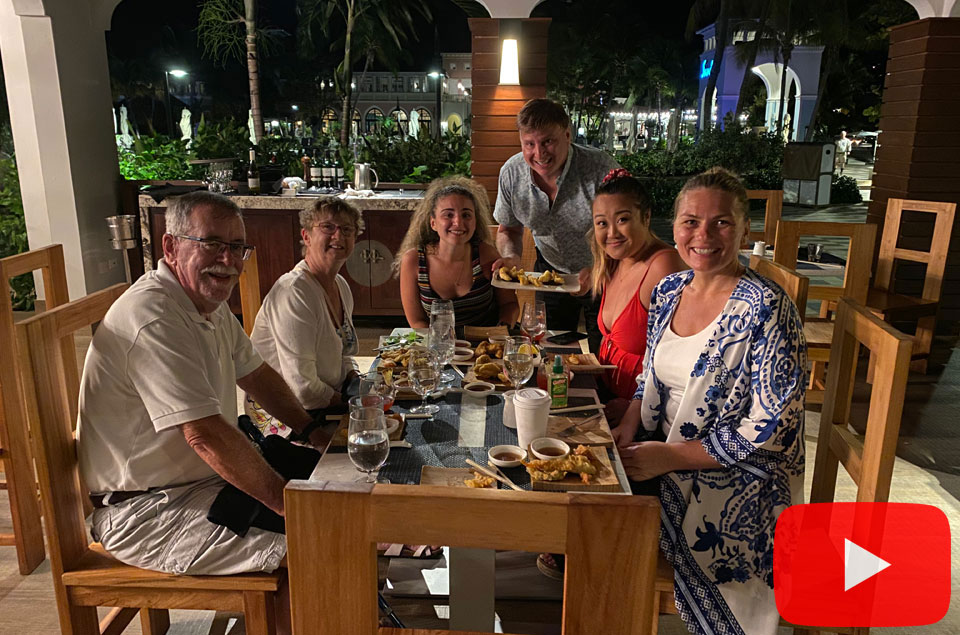 The day after Thanksgiving we had a great Lionfish dinner with a few of our friends. Tim and Mary Beatty, Hana Alverina, Taylor, my wife Andrea and myself enjoyed a fresh caught Lionfish dinner. During dinner I interviewed Hana about the taste of Lionfish. See the interview here to get a better idea of what Lionfish tastes like.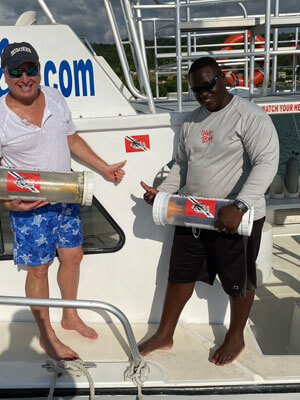 During my trip to Sandals, which is located on the South Coast of Jamaica I was very proud to have my friend and instructor Andre Pusey install Lionfish University stickers on three containment devices known as Zoo Keepers that Sandals Resort keeps on their boat.  Andre installed one sticker on the side of the boat,  proudly displayed and visible  to everyone stepping on the 42 foot boat shown here.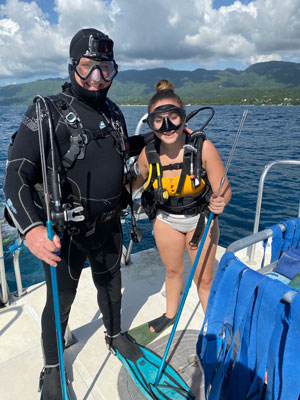 The Thanksgiving trip was very successful!  My PADI Assistant Instructor and daughter Taylor and myself removed over 135 Lionfish from the Jamaican waters! Taylor has improved her shooting and is a very competent and confident certified Lionfish hunter.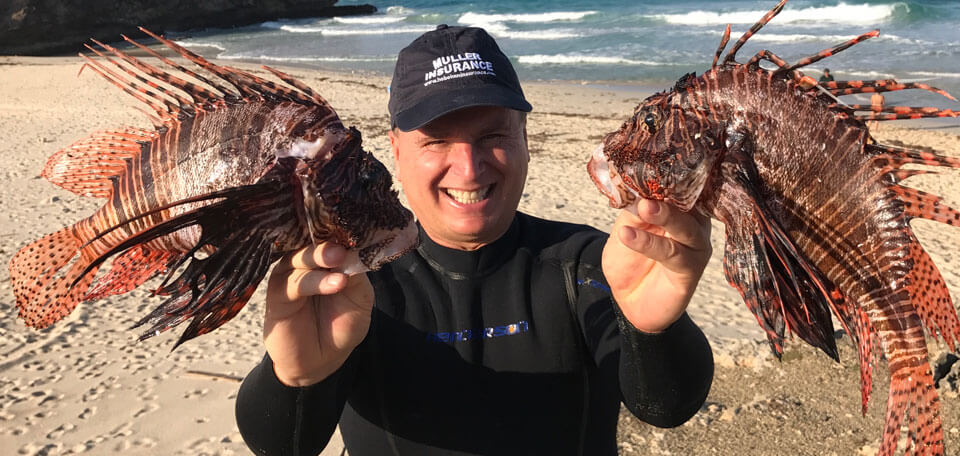 My next Lionfish University adventure will take place on Aruba in February 2020. I am excited to continue educating divers and non- divers about the issues Lionfish are causing in the Atlantic, Caribbean and the Gulf of Mexico. Through the promotion of Lionfish University and my website, Lionfishdivers.com , we are making progress educating people and fighting to eradicate these bad beautiful fish that are eating up all the tropical fish, small shrimp and lobsters that live on our reefs…
I am looking forward to doing more dives like this.