Spreading The Word About Lionfish University in Jamaica – Dec. 2019
By Roger J. Muller, Jr. – Lionfish University Reporter
During the Thanksgiving Holiday I traveled to Jamaica to spend time with the family and to hunt Lionfish. After diving with my friends Everett Forbes and Captain Alton Williams, we came back in to the dock where I saw another friend and instructor, Andre Pusey. I have been diving with Andre for many years and he learned a lot about Lionfish University through me. I told him about Lionfish University's mission to preserve the ocean's reefs and native fish populations, which are threatened in the western Atlantic, the Caribbean, and the Gulf of Mexico by the invasive lionfish.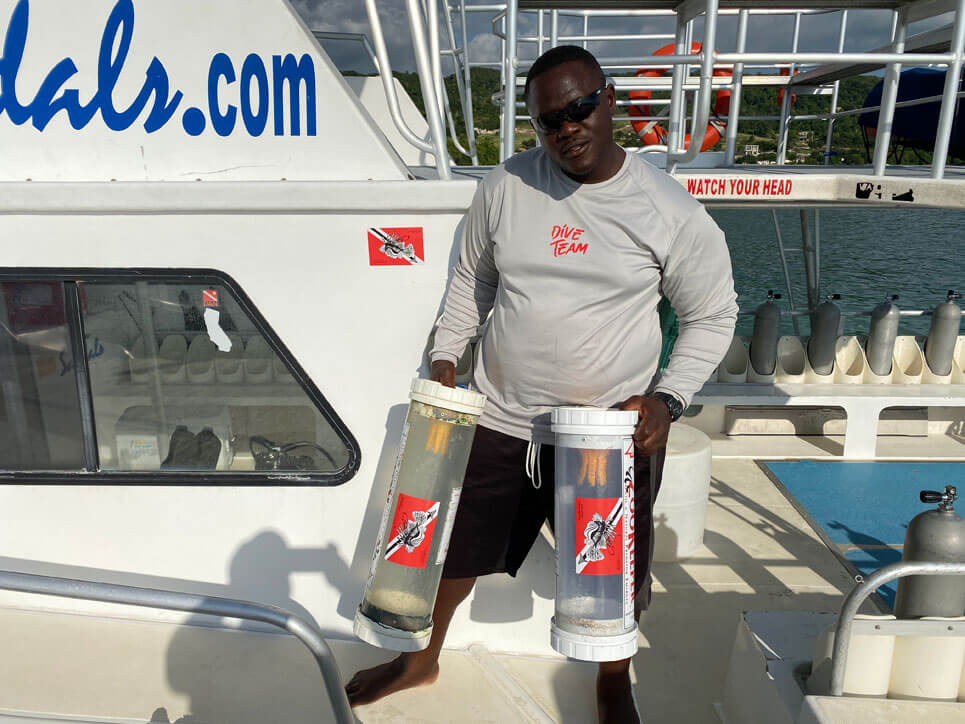 Andre with the Zookeepers and the new Lionfish University stickers.
This year I decided to present Andre, who works for Sandals South Coast in Westmoreland, four Lionfish University stickers. Andre and myself took three of the Lionfish University stickers and put them on three of the dive boats ZooKeepers.
After the ZooKeepers became Lionfish University certified, we next went to the side of the boat and Andre installed the final Lionfish University sticker on the side of the boat. The sticker can be seen right as you come on to the boat. I have photos below showing our spreading the word about Lionfish University.
For more information about Lionfish please view the articles on this site and Lionfishuniversity.org.