Lionfish University Reporter Invited to Meeting with Aruba's Governor
ORANJESTAD, ARUBA – On February 11th, 2020, Roger J. Muller Jr. a Lionfish University Reporter was invited by Ed Egan and Abigail Vrolijk of the Aruba Lionfish Initiative Foundation (ALFI) to attend a meeting with the 4th Governor of Aruba, Alfonso Boekhoudt. Governor Boekhoudt is very interested in improving Aruba's underwater environment. (Note: Abigail Vrolijk is no longer affiliated with ALFI.)
Meeting attendees pictured above from left to right: Roger J. Muller, Jr., Abigail Vrolijk, Governor Alfonso Boekhoudt, and Ed Egan.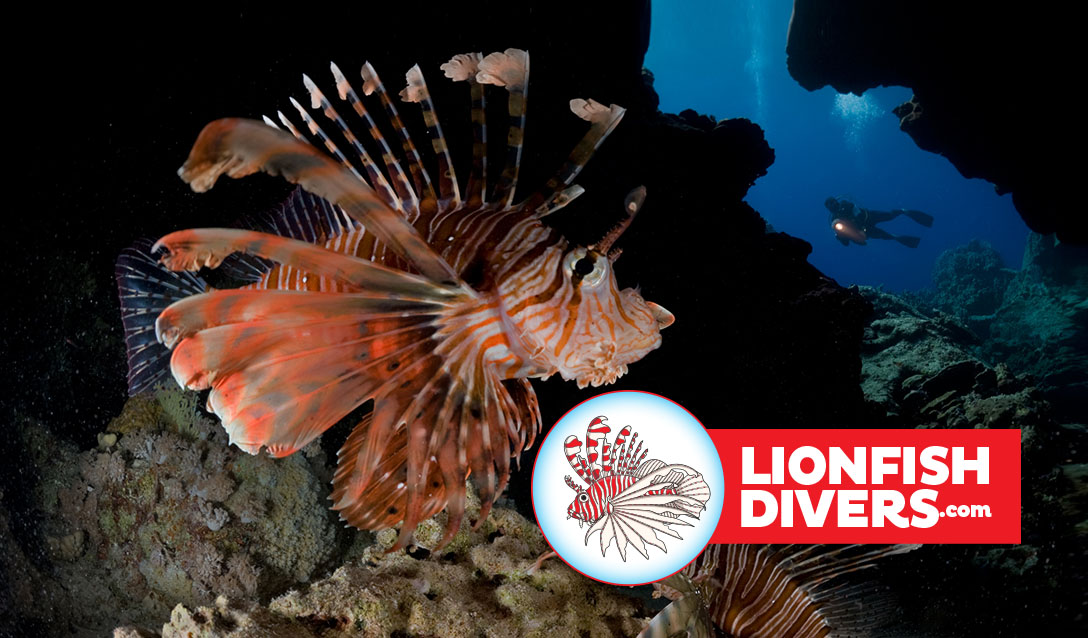 The island of Aruba is a constituent country of the Kingdom of the Netherlands. It is located in the southern Caribbean Sea about 18 miles north of the coast of Venezuela. It measures 20 miles long and 6 miles wide. Together with Bonaire and Curaçao, Aruba forms a group of islands referred to as the ABC Islands. Collectively, Aruba, Bonaire and Curaçao is also called the Dutch Caribbean.
ALFI's mission is to create a permanent 100% sustainable fishery to manage populations of invasive Lionfish in Aruba waters by purchasing, data collection, information and processing to create a market supply. For more information on ALFI, please contact them at info@arubalionfish.org.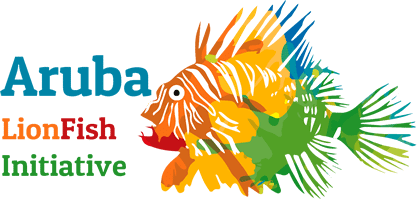 Roger met Ed and Abigail at the Aruba parliament building and were escorted in by the Governor's assistant. After meeting the Governor, the group sat down at a conference table and started their Lionfish discussion.
Ed and Abigail started the conversation by sharing ALFI's vision – which is to educate the people of Aruba about the issues of invasive Lionfish. The team then proceeded to explain a few ways that the government could partner with ALFI to further this mission.
First, Abigail suggested that the government add a science class on Lionfish in public schools to help spread awareness about the invasive species. Not only will this educate future leaders about this important problem, but it will also likely increase awareness with their parents who will then start researching these issues themselves. Eliminating untrained and pirate divers was something else ALFI wants to stop.
In response to this, Roger has developed a three minute video to educate people about the Lionfish problem. He has also offered to adjust it for the school curriculum and translate the narration to Dutch and Papiamento.
Next, Ed Egan suggested that the government invest in the Lionfish traps that have been developed around Aruba and in the US. Roger then suggested that the Governor reach out to his friend, Dr. Steve Gittings, of NOAA, who has one of the best traps around (see info on traps in the videos below).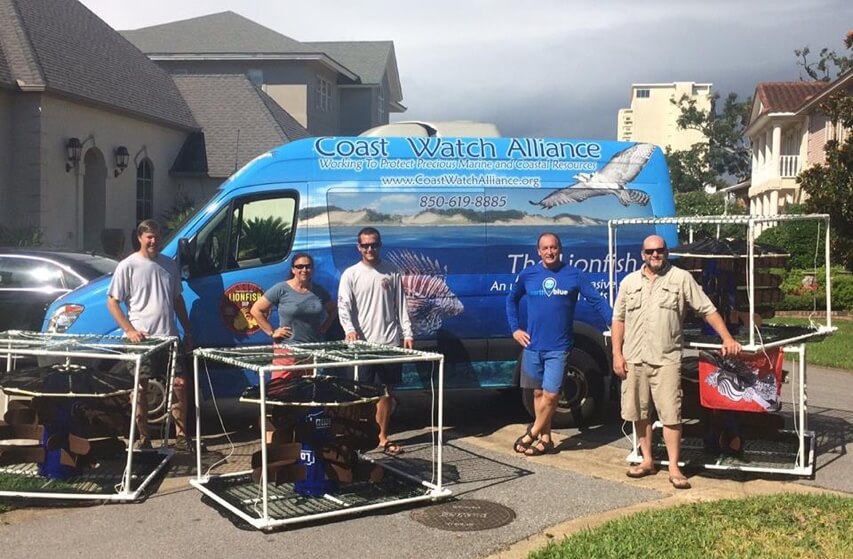 Governor Boekhoudt then mentioned another solution he had learned more about recently – eat more Lionfish. He had heard that a Lionfish hunting diver from Paradera was selling Lionfish dinners. Roger agreed with him and told him that the Lionfish wraps were tremendous. He suggested that the Governor visit his friend Patrick Van Brackel, who owns the LionFish Snack Aruba, which has great food. He uses his mom's recipe from Holland. Roger suggests the Lionfish fritters! While eating there much is to be learned about Lionfish from the many Lionfish hunters who drop off their catch after hunting. See Patrick's restaurant in the video below.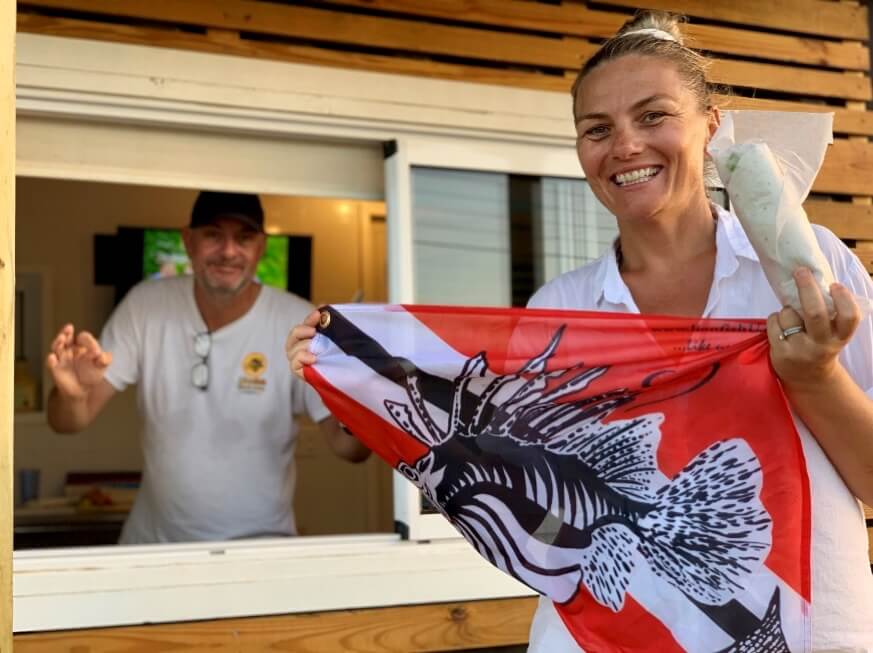 Patrick Van Brackel in his shop window and Andrea Muller with the Lionfish University flag pictured above.
For anyone who is interested in tasting Lionfish for the first time, Roger also suggests visiting a chef at the Bucuti restaurant in Bucuti and Tara Beach Resort, who is also cooking up Lionfish. L.G. Smith Blvd 55B, Oranjestad, Aruba.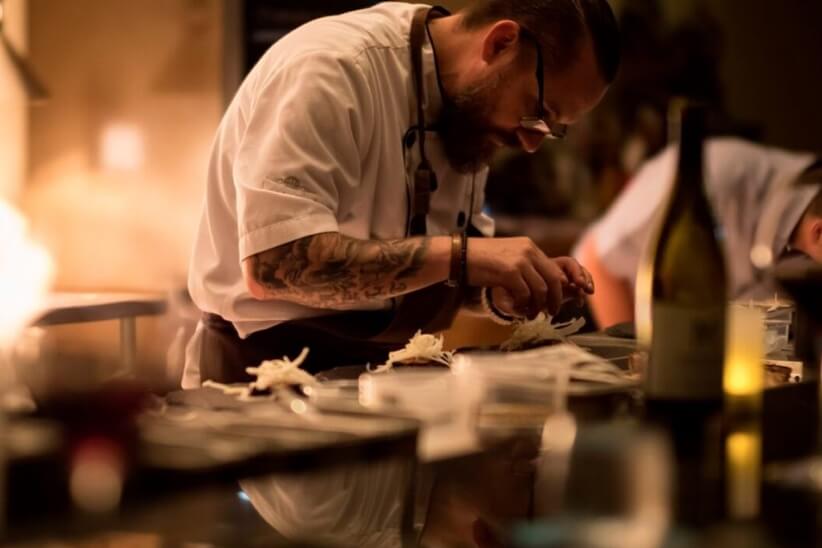 A chef at Bucuti & Tara beach resort.
In all, it was a very productive meeting. It was clear after leaving the discussion that Ed and Abigail had achieved their mission of educating the governor about ALFI's mission and promising solutions to the invasive Lionfish problems. It is unfortunate that there are still many people in Aruba who do not know much about the stress that underwater environments are under due to invasive species. However after the meeting, the team left optimistic that by partnering with the government, more people, and especially children, will become educated about the negative impact Lionfish are having on coral reefs and tropical fish.
Roger, the author of this article, is proud to be the first tourist member of ALFI and thanks Ed Egan for bringing him aboard five years ago. He hopes to continue to help educate the Arubian people about Lionfish and what they can do to help with the problem.
For more information about Lionfish please go to www.lionfishdivers.com or https://lionfishuniversity.org/
ROGER J. MULLER, JR. – Senior Reporter Lionfish University