Stacy has been an avid SCUBA diver since 1973 and lives to dive. Stacy has an enduring passion for ocean conservation.  She co-founded Lionfish University with JV Hart in 2012. Their goal is to raise awareness of the importance of maintaining these fragile ecosystems in the global community, and to fund efforts to mitigate the devastating effects of this invasive species. Lionfish University became a 501c3 in 2014.
Stacy has a master's degree in Industrial and Organizational Psychology and lives in Las Vegas with her husband. It became clear during research for a lionfish thriller screenplay that our Caribbean reefs are being threatened by many factors, including the invasive IndoPacific lionfish. Stacy firmly believes that now is the time to face this nemesis.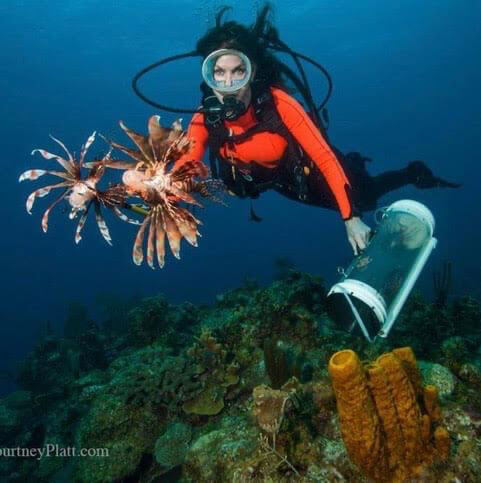 Lionfish University is a group dedicated to preserving our oceans' reefs and native fish populations, which are threatened in the western Atlantic, the Caribbean, and the Gulf of Mexico by invasive Lionfish. Stacy and JV formed this non-profit to share information and resources relating to the infestation of this invasive species.
Meanwhile Stacy Frank told Loop News there is indeed a silver lining to the invasive lionfish which is considered bad but could still bring about good.
She says a whole culture has opened up where derbies are held for culling the fish and cash prizes awarded, adding the fish is also tasty as a dish.
Frank states: "It creates an industry, there's a fortune sitting in the water. When they are culled you can make money and also help the reefs as the more you eat them the healthier the reefs get. There are other business ideas such as jewelry making from the fins and spines."
Some people have also been known to change their whole career, become the captain of their boat and make a living in the field.
Lionfish University agrees the lionfish invasion has had a silver lining and brought all different types of people together.
Frank says: "Lionfish are bad, but they are also good. These guys will never be endangered unfortunately and what is needed is greater awareness."
In March 2017, Stacy was a contributing report author to:
Going Deep For Lionfish: Designs for Two New Traps for Capturing Lionfish in Deep Water
March 2017 | sanctuaries.noaa.gov | MARINE SANCTUARIES CONSERVATION SERIES ONMS-17-05