SEA HUNTER
Scuba Diver Roger J. Muller, Jr. Dives for Predatory Lionfish to Save the Environment
By Sally Deering
(Hoboken, NJ) Insurance agent Roger J. Muller, Jr. leads a robust lifestyle overseeing his Hoboken-based company, Muller Insurance, and in his spare time, streaking across the ice as Captain of the Hoboken Rockets hockey team. Off the ice, Muller exchanges hockey pads for a wetsuit, and instead of playing offense with a hockey stick, Muller faces his opponents with a spear and a containment device: the only gear he needs to hunt the predatory lionfish.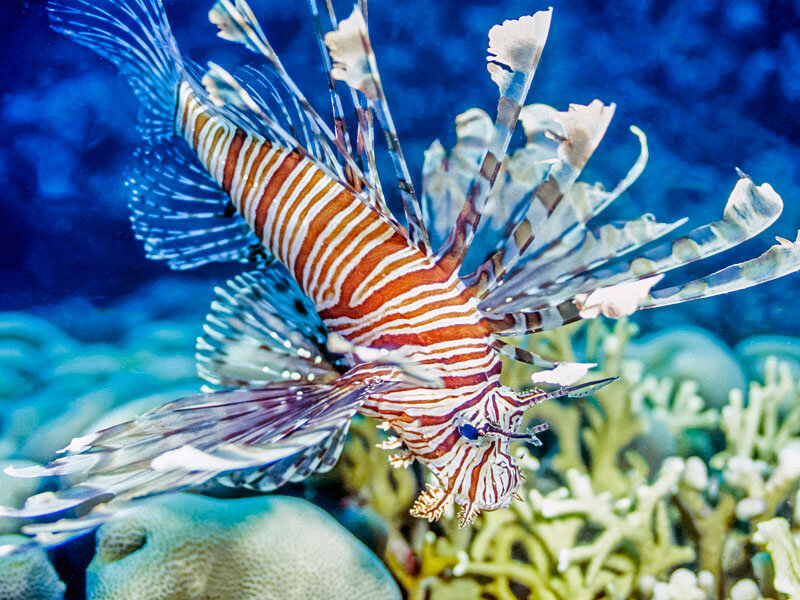 The zebra-striped lionfish (Pterois)
Introduced into the Atlantic Ocean off the coast of Florida in the 1980s – likely from someone emptying an aquarium, or as a result of Hurricane Andrew – the red, zebra-striped lionfish with fins of venomous spines has become an ocean pariah, devouring up to 20 fish a day, and attacking any predator that comes too close.
The National Marine Sanctuary Association (NMSA) categorizes the lionfish as an invasive species that has had a negative impact on native fish communities, compromising ecosystems and damaging coral reefs throughout the Atlantic. (marinesanctuary.org) A single lionfish can produce a million offspring, each year, and in the past 30 years, lionfish populations have exploded, spreading throughout the Caribbean Sea, into the Gulf of Mexico, as far south as Venezuela and as far north as Massachusetts – destroying coral reefs and marine life ecosystems.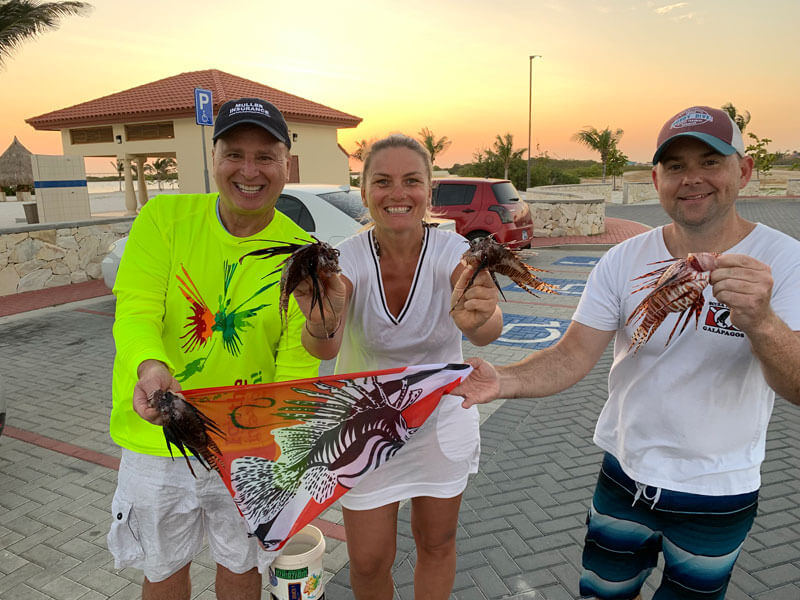 Lionfish hunters Roger J. Muller, Jr. and Jared Casperson hold up their catch
with Roger's wife, Andrea Muller
In 2009, Muller, a Professional Scuba Dive-Master and Instructor, became aware of the lionfish problem and made his first lionfish kill in Curacao with a pair of scissors. In the 10 years since, Muller, who holds 112 PADI, NAUI, SSI, TDI, and SDI certifications, has traveled to tropical places hunting lionfish and recruiting divers to join the cause. He sponsors lionfish derbies to eradicate the lionfish and raise awareness, and he dives with other lionfish hunters who share his passion. A field reporter for Lionfish University, Muller travels to Aruba, Cuba, Panama, Bonaire, Curacao, Jamaica, the Bahamas' Grand Cayman Islands, St. Croix, and the Florida Panhandle to hunt, spear, and spread the word.
"I have an Environmental Science degree from Ramapo College of New Jersey, and I wanted to do something to help the environment," Muller says, as he prepares for a trip to the Florida Panhandle. "Sitting at my desk and selling insurance helps people protect their homes, autos, condos, but it does not help the environment. I love scuba diving and searching for lionfish on dives. It's fun looking under ledges, between rocks and corals to find lionfish."
Muller created the website, lionfishdivers.com, where he uploads videos, photos and articles of his underwater safaris. Recently, along with lionfish hunters Captain Andy Ross, Marshall Holtzclaw and Alex Fogg of Destin, Florida, Muller co-sponsored the largest lionfish derby in history.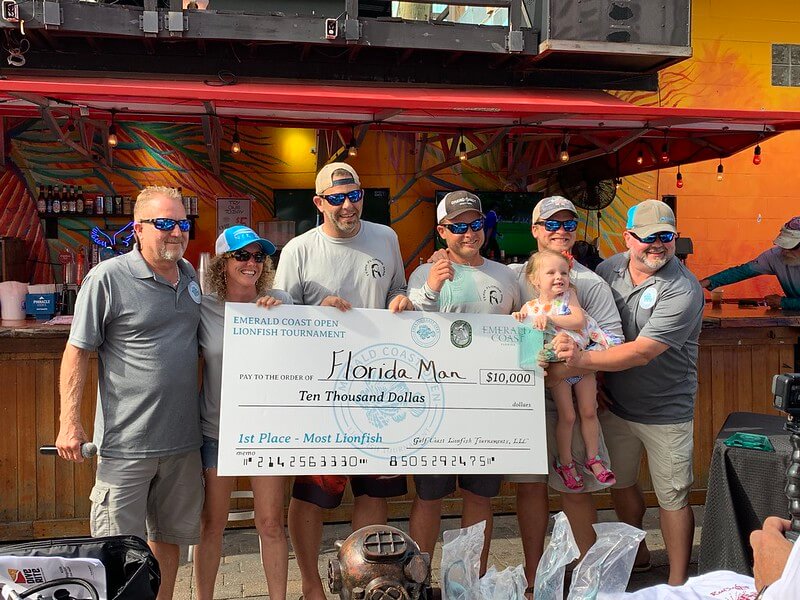 Florida Man, captained by Josh Livingston, of Destin with John McCain and Rachel Lynn Bowman on the winning team.
Over the May 18th weekend, at the Emerald Coast Open Lionfish Derby, lionfish divers took to the sea to hunt lionfish. The $10,000 First Place prize went to the 'Florida Man' team for the biggest haul of 2,241 speared lionfish. In total, $48,000 in cash prizes went to participating divers.
"They removed 19,167 lionfish which is amazing since you need to spear one fish at a time," Muller says. "Out of all the places I have hunted lionfish, the Destin-Pensacola, Gulf Coast area is the worst, and lionfish are wreaking havoc on marine life. Divers in the Emerald Coast Open had the biggest effect ever on lionfish in the Gulf."
Marine Biologist Alex Fogg of Destin, who hosted the Emerald Coast Open Lionfish Derby, wears many hats including commercial lionfish hunter and researcher, he says. In 2010, he began studying lionfish' biology, diet, growth, and impact on the reefs.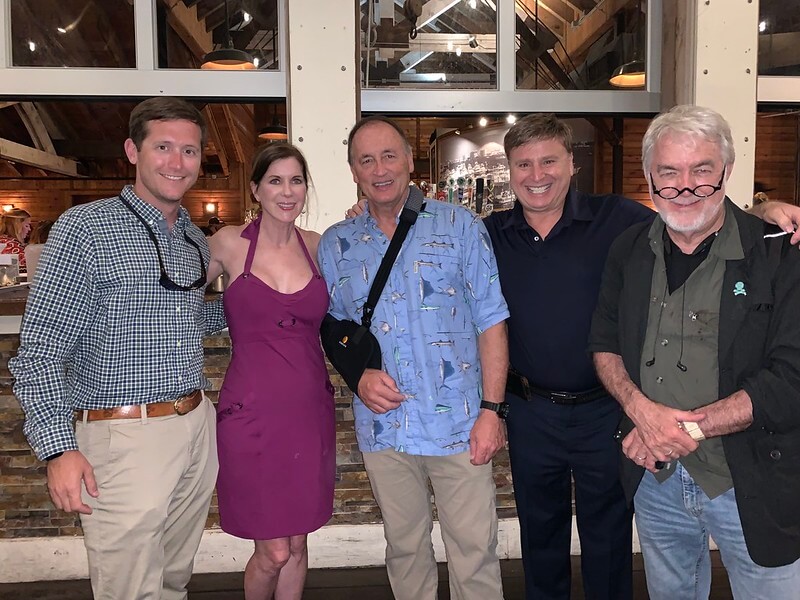 Lionfish hunters Alex Fogg, Stacy Frank, Dr. Steve Gittings, Roger J. Muller, Jr, and James V. Hart at the Emerald Coast Open Lionfish Derby
"Lionfish are from the Red Sea and that's where they're supposed to be, that's where they have a place in their ecosystem," Fogg says. "They started invading the Mediterranean Sea because of their ability to survive in very deep and very shallow water. They adapt to whatever environment they find themselves in."
Although they have yet to dive together, Fogg and Muller know each other through their work eradicating lionfish.
"The number of folks involved in lionfish hunting is very small," Fogg says. "I do a lot of harvesting out of Destin and Pensacola, Florida. The highest densities of lionfish are found in the Florida Panhandle."
Muller Insurance, which writes insurance in Florida, co-sponsored the Emerald Coast tourney "because we care about the environment," Muller, says. The group Reef Save also shared sponsorship. Alice Brinkley-Hobin, who founded Reef Save in 2017 says the best way to eradicate lionfish is to create a demand for them as a food source.
"The main thing is to catch lionfish and make a market for eating them and selling them," Brinkley-Hobin says. "The lionfish population will decimate a reef in the matter of days."
(reefsave.org)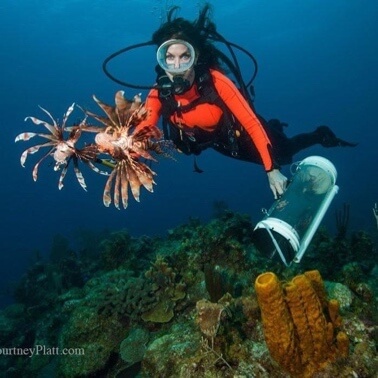 Stacy Frank of Lionfish University
LIONFISH UNIVERSITY
In 2014, scuba divers Stacy Frank and screenwriter James V. Hart founded Lionfish University when they realized that environmentalists and divers were concerned about the reefs, and the lionfish invasion. (lionfishuniversity.org)
"The impact of the lionfish has been devasting," Frank says. "Lionfish are one of the most invasive aquatic species in history. They have been decimating reefs and weakening ecosystems across the western Atlantic, unchecked and unchallenged."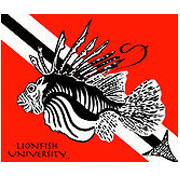 Lionfish University sells red flags at $20 a pop to dive shops and other marine specialty shops, and restaurants, to raise awareness and show solidarity in eradicating lionfish. Wherever Muller travels, he brings Lionfish University's red flags to recruit diving clubs, and scuba shops to join the mission.
"Roger's very enthusiastic," Frank says, "and he's increasing awareness."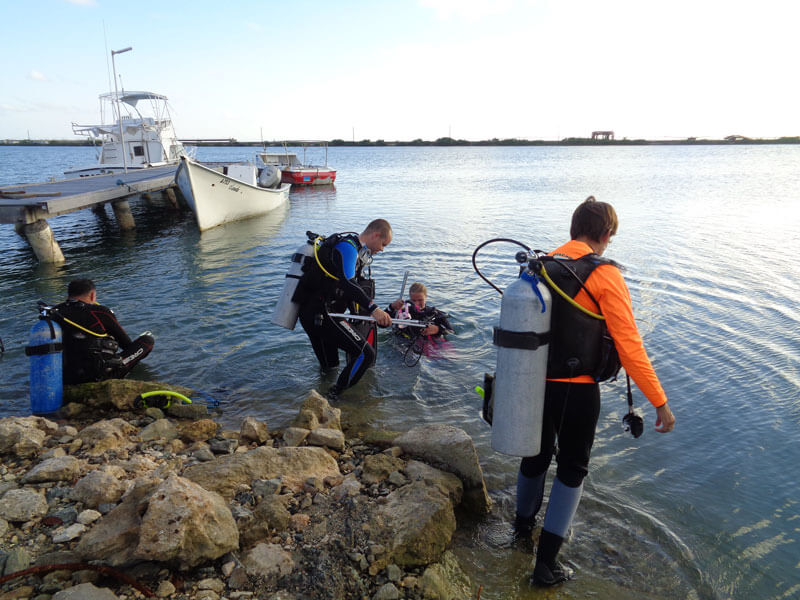 Shore diving for lionfish in Aruba
Muller discovered Lionfish University on a dive in Aruba with a field reporter for Lionfish University in Aruba.
The dives we made were advanced dives, at times, spearing lionfish at depths of 130-feet. PADI suggests a maximum of 130-feet for safety reasons.
To hunt lionfish, Muller jumps off boats, or shore dives off a rocky shoreline.
"In Aruba, the most lionfish we spear are in the water range of 40-120 feet deep," Muller says. "Spears and the Zookeeper, which is a lionfish containment device, are a must."
Although the lionfish has venomous fin spines, Muller says lionfish don't sting people. Many divers are stung accidentally, like when they put the fish into the Zookeeper or step on a spine. Muller was stung in his thumb, once, diving in Panama. He refers to the incident as "The Panama Sting" and says he had to use hot water from his hotel room's coffee-maker to ease the pain and swelling from the venom.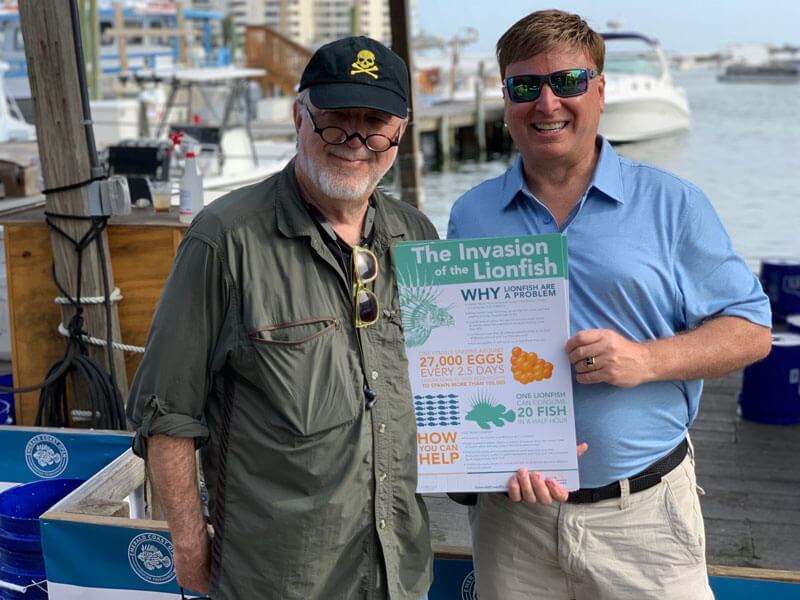 Screenwriter James V. Hart with Roger J. Muller, Jr.
LIONFISH BECOME STAR FISH
On a lionfish hunting trip, Muller met James V. Hart, Lionfish University co-founder and Hollywood screenwriter who penned Hook, Bram Stoker's Dracula, Contact and other major motion pictures. Currently, Hart spends his time at the computer writing a reality TV show about the lionfish community – although he did take time out of his busy writing schedule to go down to Destin, Florida, for the Emerald Coast Open Lionfish Derby.
"I was going to write a horror film after I first saw a lionfish," Hart says. "I thought, this is perfect, a giant lionfish the size of a bus. That was in 2010. Now there is an awareness. In the past four-to-five years, the invasion has been getting more intense, and the bad news is, we're still losing."
Hart decided that lionfish hunters like Muller would would make an interesting reality-TV show, spotlighting the lionfish invasion and its impact on people's lives. Hunting lionfish has united a unique cross-section of people, Hart says, which could make an interesting TV show.
"The reality show (will be) about the people and their different lives," Hart says. "The group we assembled in Antiqua; we would never have met them without the lionfish. A war puts people together in battle. It's amazing what the invasion has done to industry, inventions and commerce."
Although Hart and Muller travel to tropical places to volunteer their time eradicating lionfish, the two divers never met face-to-face or goggle-to-goggle, until recently, when they crossed paths at the March 2019 'Beneath the Sea' expo in New Jersey.
"Roger has been a great ambassador for Lionfish University," Hart says. "He supports the team's efforts."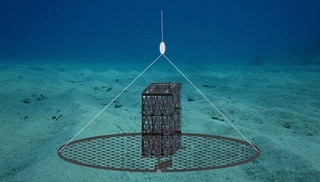 The Purse Trap by Dr. Steve Gittings of NOAA
THE PURSE TRAP AKA 'GITTINGS GOBBLER'
One innovation in lionfish hunting is the Purse Trap now undergoing tests as a lionfish catcher, also known as a fish aggregation device. The Purse Trap is designed by Dr. Steve Gittings, Chief Scientist for the National Oceanic and Atmospheric Administration (NOAA) and its National Marine Sanctuary System in Silver Springs, Maryland.
Dr. Gittings' Purse Trap, known to some divers as 'Gittings Gobbler 'is an inexpensive trap to remove lionfish from areas divers can't reach. Unlike other traps that also trap indigenous fish, the Purse Trap is designed to only attract lionfish, Dr. Gittings says. The Purse Trap could be a valuable tool for commercial fishermen to catch and sell lionfish. (noaa.gov)
"It's at the point where it's ready for commercial evaluation," Dr. Gittings says. "We've done a lot of testing to prove the concept of the design. It looks like a lady's change purse."
Until the Purse Trap – and other lionfish traps like the Dome Trap – are on the market and commercial fisherman are including them in their search for the catch of the day, lionfish hunters, like Muller will take it upon themselves to slip below the surface and hunt with spear and containment receptacle.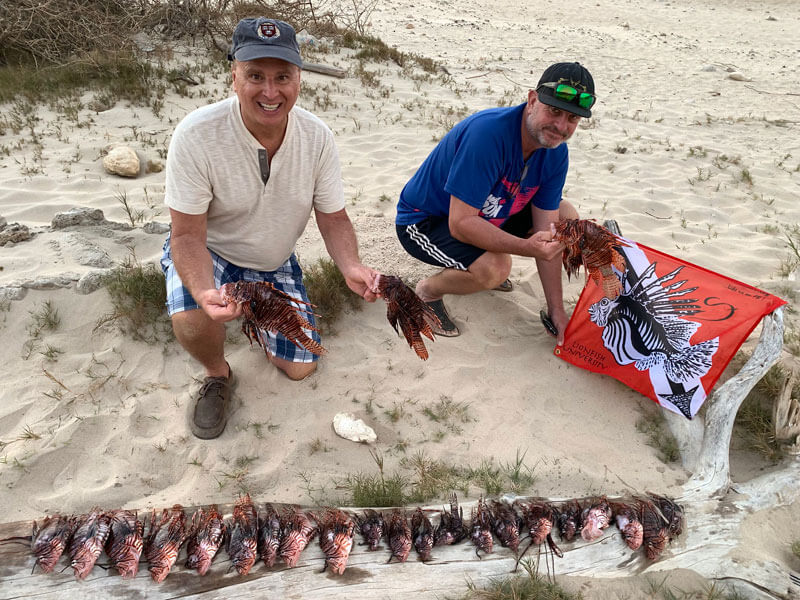 Roger J. Muller, Jr. and Patrick Van Brakel, Owner, Lionfish Snack Aruba
LIONFISH SNACK ARUBA
Most lionfish divers agree that selling and eating lionfish will dramatically reduce lionfish numbers, and many restaurants in the places where Muller dives have lionfish on the menu.
In February, Muller shore dived at Black Stone Beach in Aruba with lionfish hunter Patrick Van Brakel, who will be opening Lionfish Snack Aruba in Paradera. Like a food truck only without the wheels, Lionfish Snack Aruba will serve lionfish fritters, wings, soup, and ceviche. (lionfishsnackaruba.com)
"Patrick will serve fresh lionfish that he hunts, kills and cleans," Muller says. "Most of the people I know fry them. I was in Bonaire; I had some brought back to the room. I cut the spines off carefully, I cooked them in a pan with butter, lemon. The lionfish is a flakey white meat that tastes like grouper or mahi-mahi."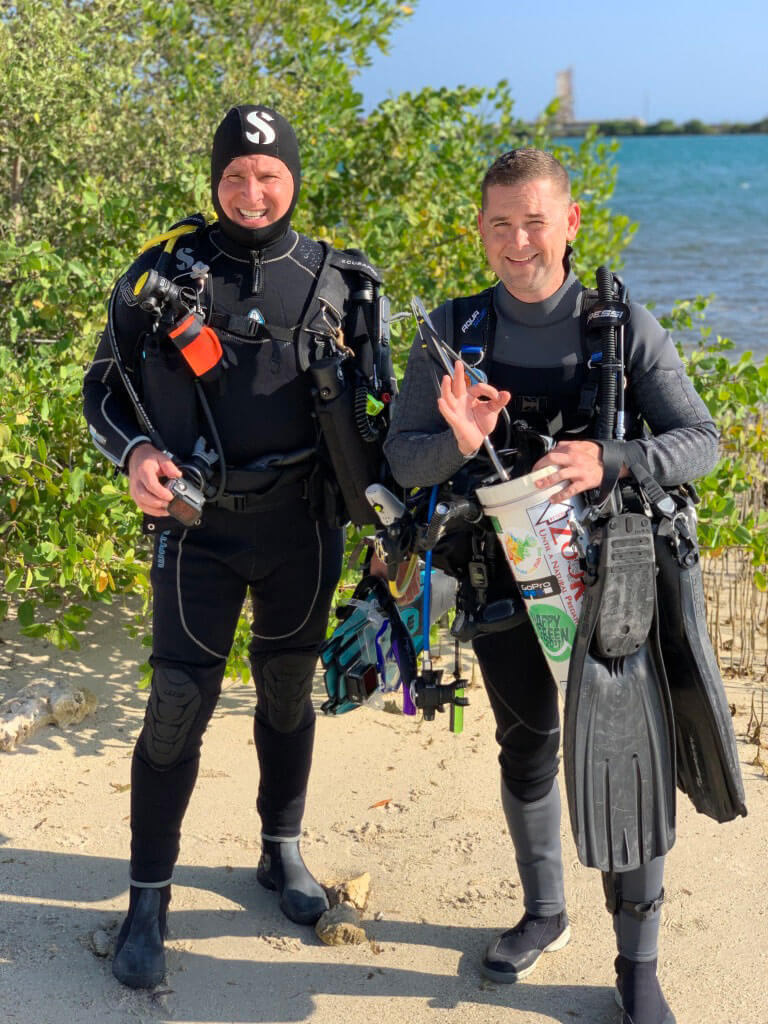 Roger J. Muller, Jr. and Jared Casperson prepare to dive for lionfish
REEF RANGERS
Muller's diving buddy Jared Casperson is a Reef Ranger with the Aruba Lionfish Initiative Foundation. The group boasts a large roster of volunteers who meet every other week and dive together regularly. (arubalionfish.org)
"The reefs all around Aruba are 20-to-30-feet and we find big lionfish at those depths," Casperson says. "When they come up, they feed off the baby fish trying to stay protected by the corals."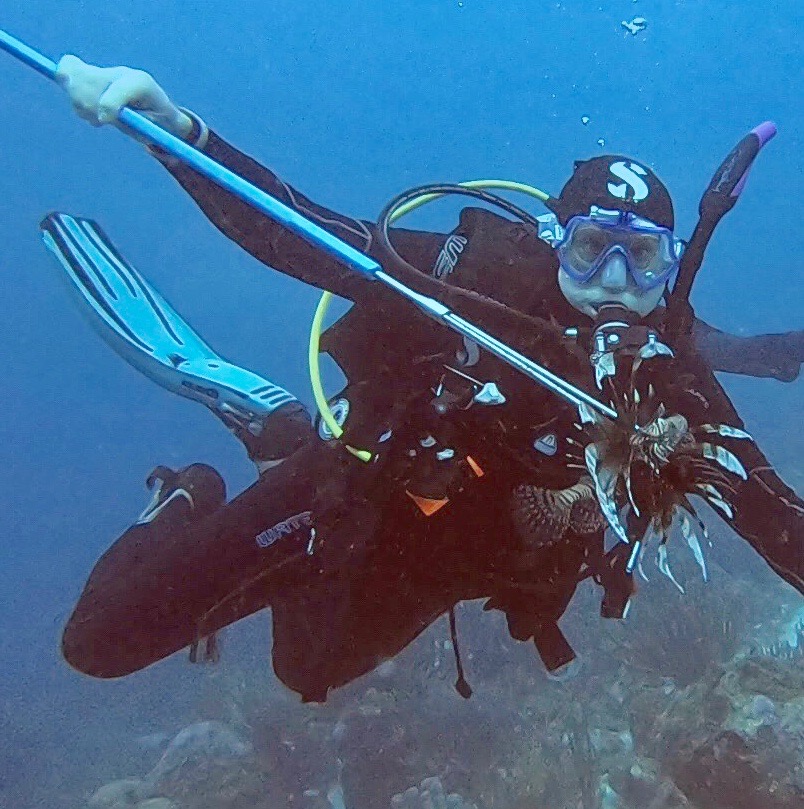 Roger J. Muller, Jr., hunting lionfish
(Photo:  Jared Casperson)

Casperson and Muller dive whenever Muller visits Aruba.
"Roger's very competent and knows what he's doing," Casperson says. "He's a lot of fun and has a lot of experience under his belt. You feel comfortable diving next to him. He has the expertise to handle anything that comes about."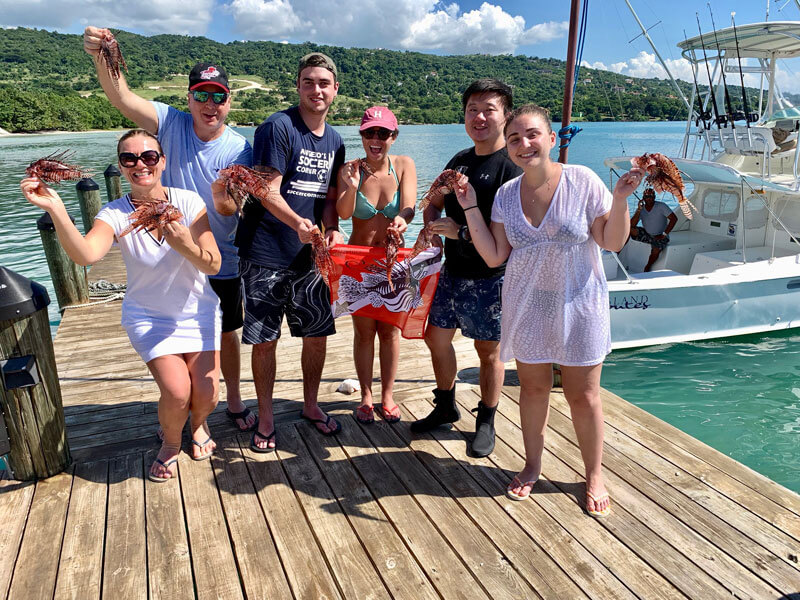 Roger J. Muller, Jr. with family and friends after a lionfish hunt: Andrea Muller, Roger J. Muller, Jr., Joe Barry, Kelsey Muller, Chris Sun and Taylor Muller
To date, Muller has made more than 1200 dives and speared 1620 lionfish on his safaris. He plans another lionfish hunting trip to Jamaica on Thanksgiving with his daughters, Kelsey and Taylor, who are Professional Dive-Masters and Instructors.
"The more people who understand the issues of lionfish not belonging in our waters and ruining our reefs, the easier it will be to tackle the lionfish problem," Muller says. "I want to educate the public on the lionfish issue, and hopefully, we can all save the environment."
***
For more info, contact:
Roger J. Muller, Jr.
Muller Insurance
930 Washington St.
Hoboken, NJ 07030
(201) 659-2403 (office)
mullerinsurance.com
roger@mullerinsurance.com