Lionfish University – Jamaican Lionfish Diving Review 12/4/19
By Lionfish University Reporter and Hunter, Roger J. Muller, Jr.
I just got back from a great trip to Sandals in Westmoreland, Jamaica. Over the past five Thanksgivings, I have traveled to Jamaica to dive with great friends, instructors and dive-masters including Captain Alton William aka Wally, Everett Forbes, Demaine, Andre, Carlson, Bryon, Ricardo, OG, Teishekia, Garth McKay, Inique Findlay and others.
This trip I spent much of my time scuba diving for Lionfish. I was also joined for a few days by my daughter Taylor Muller, who is an Assistant Instructor with PADI and her friend Hana Alverina, who got certified as an open water diver and then joined us right away on her fifth dive on as a Lionfish spotter and videographer. Congratulations to Hana for becoming a certified diver and doing such a great job diving and helping spotting Lionfish! Hana is a great example of how non-spearing divers can help in the fight to remove Lionfish.
I had a great conversation with Captain Alton Williams, who mentioned that there are far fewer Lionfish today than when I started diving in Jamaica four years ago. This is because commercial fishermen have now learned about the profits they can make Lionfish hunting.  Some of the fishermen purchase compressors and then hire divers to spear Lionfish and catch lobsters on long hookah hoses. These divers have an unlimited amount of air supply and spend many hours spearing. As us certified divers know, this is not a good way to Lionfish hunt. It is great that the fishermen are participating in the removal of Lionfish and are making a decent amount of money selling them to restaurants and fish markets. However, these practices are not safe for workers. Many of them get the bends and are now living with the repercussions of decompression sickness.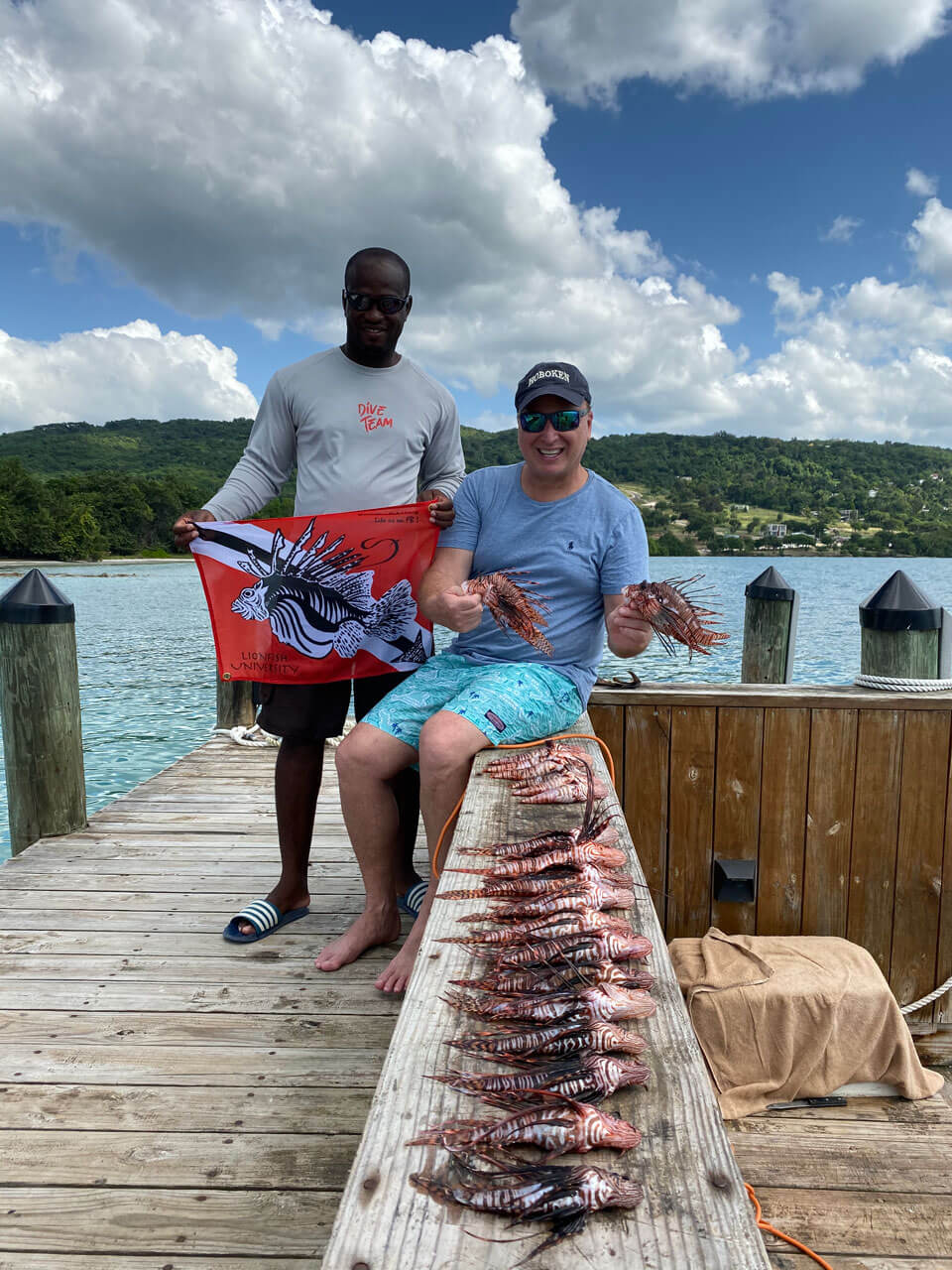 International Lionfish Hunter Roger J. Muller, Jr. & Everett Forbes kill 25 Lionfish on their Jamaican dive!
I spoke to other Lionfish hunters who were staying at our resort and they mentioned that three Lionfish per dive was their average. Sandals offers two free dives in the morning and many take advantage of this great opportunity. As I prefer a private trip, I requested to dive in an area where these morning dives do not go and my numbers jumped up to about 20 Lionfish a dive, totaling to over 125 kills. Of course, I had to work harder for these catches, diving deeper to about 90 feet of water and often searching under the giant rock formations. I was happy to find areas that were less hunted and was busy spearing. I must say, on the first few days got I got the impression that divers were making a huge difference in Jamaica as we were seeing so few Lionfish, I had to search to find them in deeper water. Turns out it was a huge difference but only in that spot!
Many people have concerns about divers spearing fish, but all the fish in my videos were eaten by the workers at Sandals or my family and friends. We had a great Lionfish Dinner one night and I really enjoyed Lionfish Tempura style – even though I really am not much of a fish eater. I did a quick video reporting for Lionfish University with Hana on what Lionfish tastes like. She's a big fan of fish and this was her first time enjoying Lionfish.
As the ocean is so large there are many places for Lionfish to hide! As we know, one female Lionfish can produce 15 to 30 thousand eggs per batch, so a fish in warm water could theoretically produce as many as two million eggs per year. These eggs largely escape predation due to a repellant occurring in the fertilized egg mass. This means that tons of the Lionfish babies grow up around the safety of structures and have little predatory stress. This not a huge problem for our oceans as Lionfish are voracious predators that eat tropical fish, small shrimp, and lobsters. These small fish are vital to their ecosystems as they feed larger fish. Lionfish are an invasive species that does not belong in the Atlantic or Caribbean Oceans, we must continue to protect our oceans and remove Lionfish.
We all really need to work together with the scientists, NOAA and other organizations like the Lionfish University to help curb the Lionfish issues.
The mission of Lionfish University is:
We are a group dedicated to preserving our oceans' reefs and native fish populations, which are threatened in the western Atlantic, the Caribbean, and the Gulf of Mexico by the invasive lionfish. We formed this non-profit to share information and resources relating to the infestation of this invasive species. Our goal is to raise awareness of the importance of maintaining these fragile ecosystems in the global community, and to fund efforts to mitigate the devastating effects of this invasive species. Please share your lionfish stories, photos, videos, and resources with us here, and if you have any suggestions for things you would like included on our website or Facebook page, please contact us at hello@lionfishuniversity.org.
I highly recommend to follow and read all the information available that is produced by Lionfish University and also check out lionfishdivers.com for great stories, photos, Lionfish cooking videos and information about Lionfish.
Below you will see a video of some of the Lionfish trips that we took in Jamaica and you can get an idea of what it is like to dive on the South Coast of Jamaica. If anyone needs additional information or has any questions on Lionfish, please email me at roger@mullerinsurance.com or comment on this post. Please subscribe to my YouTube Channel and check out Lionfishuniversity.org or check out lionfishdivers.com for Lionfish around the world including Cuba, Panama, Aruba, Jamaica, Bonaire, Curaçao, US and St. Croix.
Good luck to all my Lionfish hunting friends out there and this is Roger J. Muller, Jr. Signing off for the Lionfish University…
P.S. Here is a Lionfish safety video produced by Lionfish University that I contributed content too. It is really good!