Association, Company, Affiliations: Lone Star Dive & Fish
Your favorite quote: Getting old ain't for sissies. Better to have money than to look like you have money.
Your message or mission statement: I had conflicting emotions when Lionfish first appeared in the Carribean. After years with them in Palau where guests came specifically to see all 5 species in a week aboard the Aggressor. I was torn. Took a year for me to come around to the idea of shooting such a fantastically stunning fish. Then I ate one and it was all over for Carribean Lionfish! It is my hope that with the right efforts we can create an export market for Island Nations to create sustainable livelihoods for indigenous islanders.
Your latest endeavors and where they take place: In 2018, my wife Amy and I put on the first Annual Roatan International Lionfish Tournament benefiting local charities and Marine Park programs. Our efforts helped raise the awareness locally and helped to nearly double the market price of Lionfish in Roatan. Harder to catch Lionfish than almost any hook and line species sold at market, so we thought the price should reflect the hunters efforts and outlay of time and equipment. I also sportfish and saw no reason Wahoo, Tuna, and Mahi should be selling for so much more. We now have more local demand than can be met and hunters have buyers waiting as they come from the water.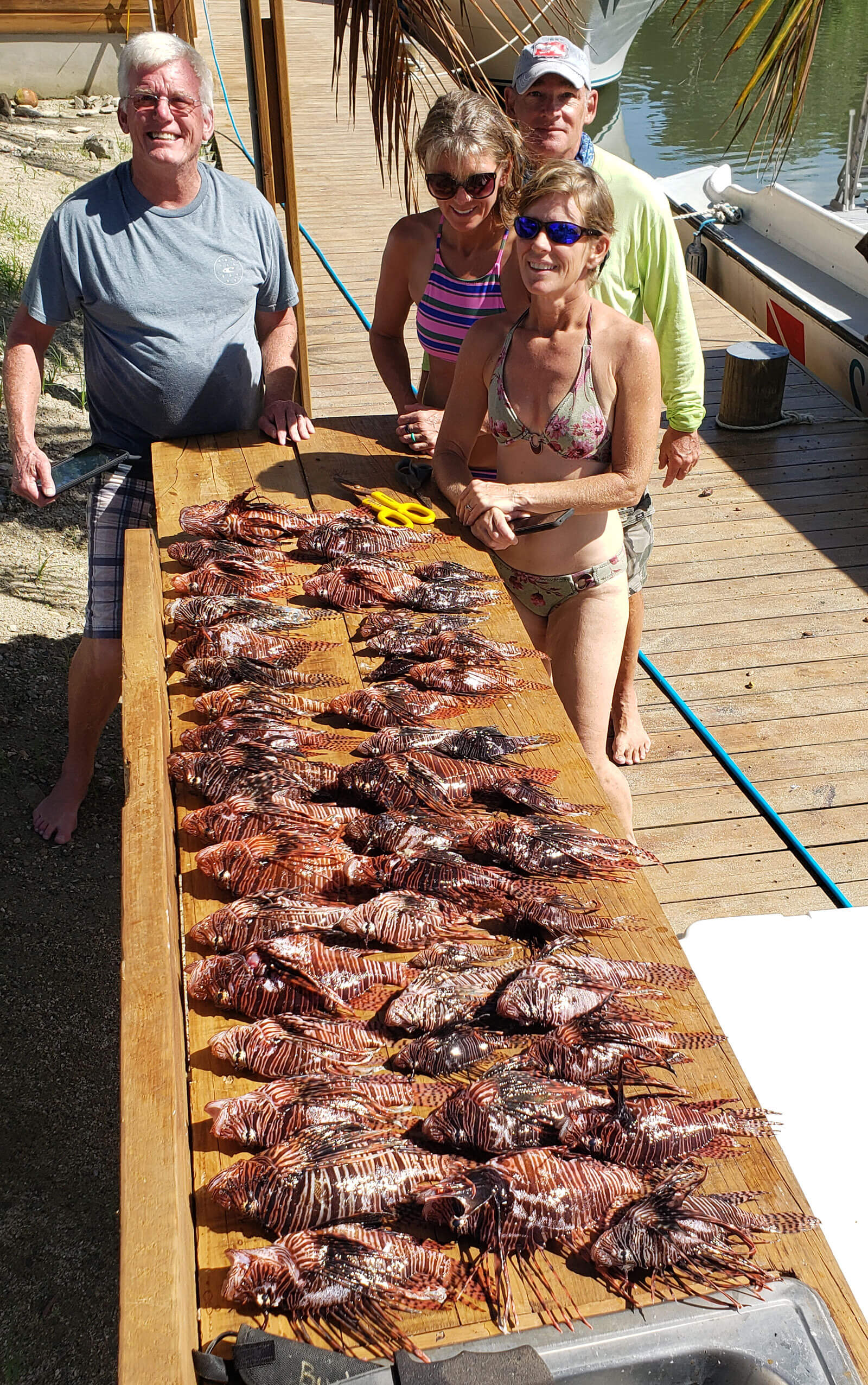 What efforts are you most proud of? I'd guess the Tournament is so far my greatest Lionfish achievement. Seeing the wide range of local islanders that turned up, some of whom held their own and even placed in the money free diving against some serious SCUBA teams was a great feeling. The community as a whole embraced the idea fully the second year and we even got government attention and a little help from Minister of Tourism. We were so stoked to see what we could accomplish the third year and then COVID slammed the tourism door shut. We are making some soft plans for 2021 and hope we will both be allowed to hold it, and have the tourist interest and participation continue to grow.
Anything else you'd like us to know? Roatan Honduras is open for business and the diving is fantastic. The year of rest has done wonders for the health of the reef and I need help to kill all these damn Lionfish. Come on down and stay with us at Lone Star House B&B, and dive and slay with Lone Star Dive & Fish. I've been a PADI Master Instructor since 1987, TDI Instructor Trainer, USCG Captain, and have made my life and living around Nautical Bafoonery. We run an operation that allows you to dive to your abilities and skill level. Something I always sought when I vacationed with my family. Come see us and let us help you find your personal best for both size and numbers. Not uncommon for us to take 20-30 per diver, per dive. Come get some.