Coastal Resource Manager
Association, Company, Affiliations: Destin – Fort Walton Beach, Okaloosa County, Florida
Location: Florida
Your favorite quote: "Lionfish are bad" – Source anonymous
Your message or mission statement: This is a tough one. Providing opportunities for more people to interact and experience what the marine environment has to offer is probably the most important "mission" I have. Whether its diving and snorkeling natural and artificial reefs, removing invasive species like lionfish or even just going to the beach, these experiences can change the way people go about life. The work I do for my job and on my own time seem to blend together which makes this endeavor even more enjoyable!
Your latest endeavors and where they take place: As far as lionfish work goes, there is a lot going on! In Destin – Fort Walton Beach where I currently live and work, we have a lionfish tagging study underway in Choctawhatchee Bay to not only track movement and growth but also survival in a very dynamic system that can subject lionfish to extreme conditions such as temperatures, salinity and dissolved oxygen. Here is a presentation I gave early on in this work:
A little more offshore we are continuing to monitor the lionfish population. When I say monitor, we aren't just going out and looking at lionfish, we are working with local divers as well as Destin – Fort Walton Beach staff to go out and remove as many lionfish during a week every month. Once we remove them, we measure each of them as well as inspect them for ulcerations that have been observed over the last two years. These data are extremely important for tracking how the lionfish population is changing in the northern Gulf of Mexico as well as what may be causing those changes. More info on how these data were used in collaboration with University of Florida and other partners can be found here:
We are also working closely with partners from around the world to host the worlds largest lionfish tournament and festival in Destin, Florida. The Emerald Coast Open is associated with Florida Fish and Wildlife's Lionfish Removal and Awareness Day and has resulted in tens of thousands of lionfish being removed from local waters as well as thousands of spectators that have had a chance to learn about lionfish and a fan favorite; what they taste like.
More info can be found here: https://emeraldcoastopen.com/
Outside of the area, we have worked closely with researcher in the western Gulf of Mexico and Caribbean to continue studying the invasion as it related to social dynamics, forwarding life history descriptions such as age and growth, and fine-tuning regulations to target lionfish and protect native, vulnerable marine species. Further, we have begun working with researchers and managers in the newly invaded Mediterranean Sea to pass along lessoned learned in our invasion in the western Atlantic and further our understanding of invasive lionfish in a new location.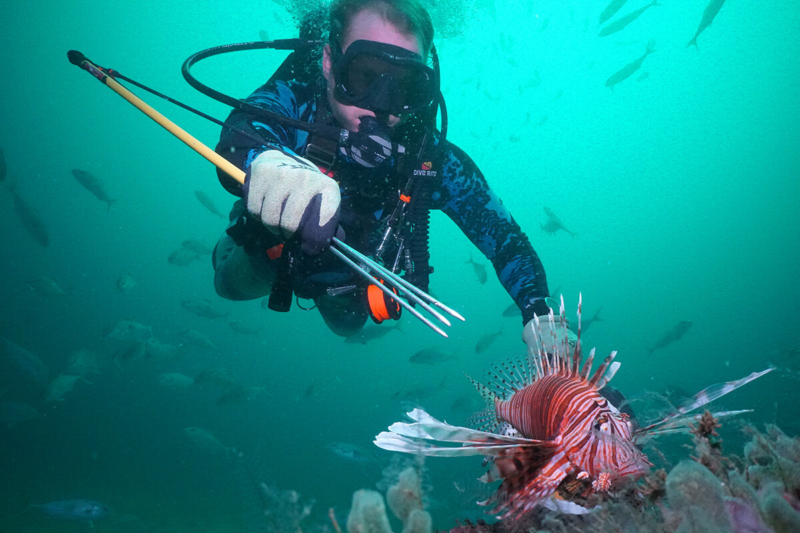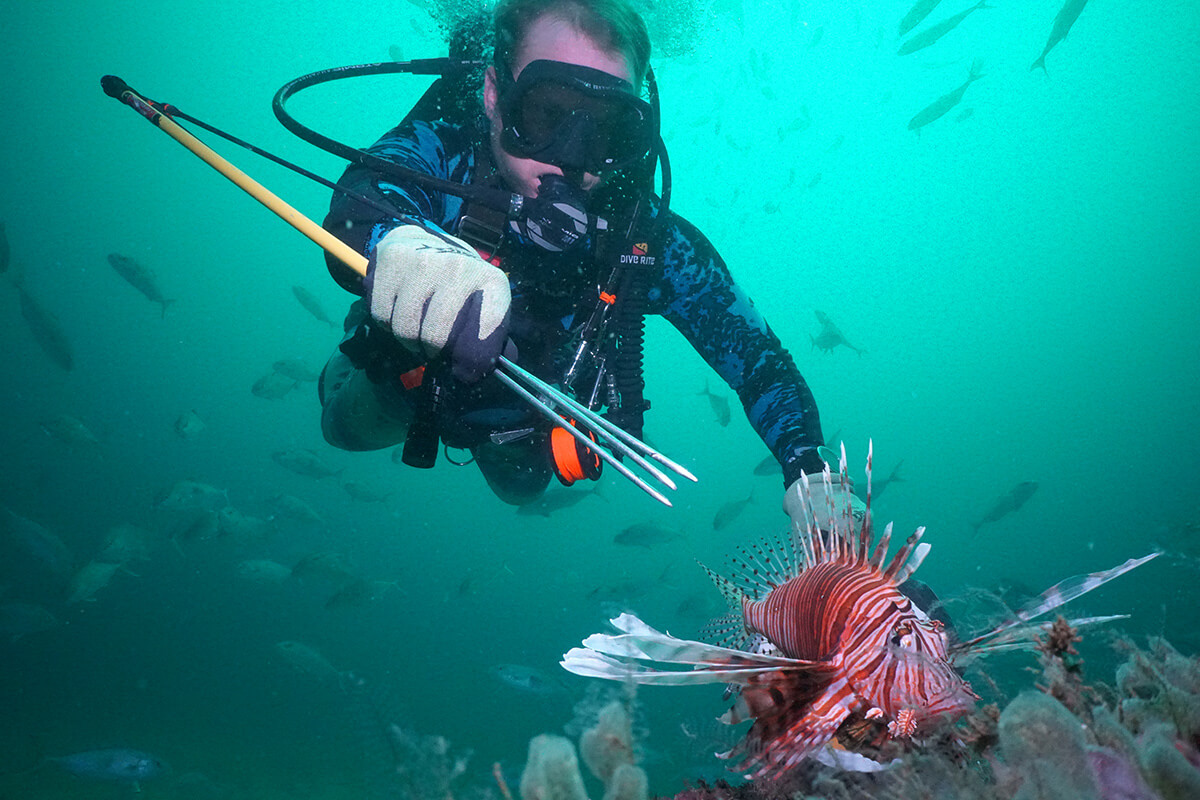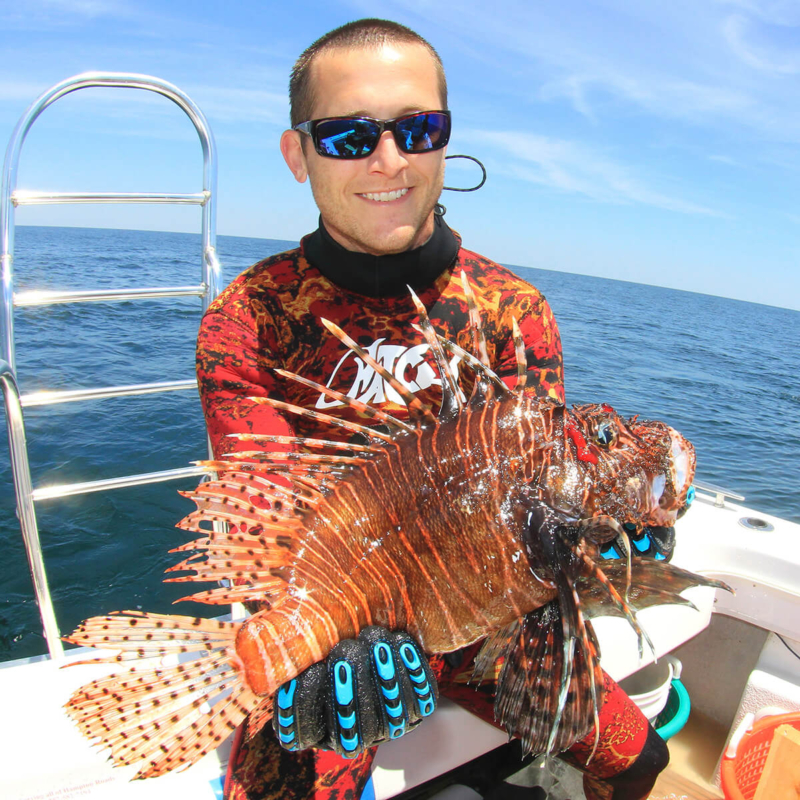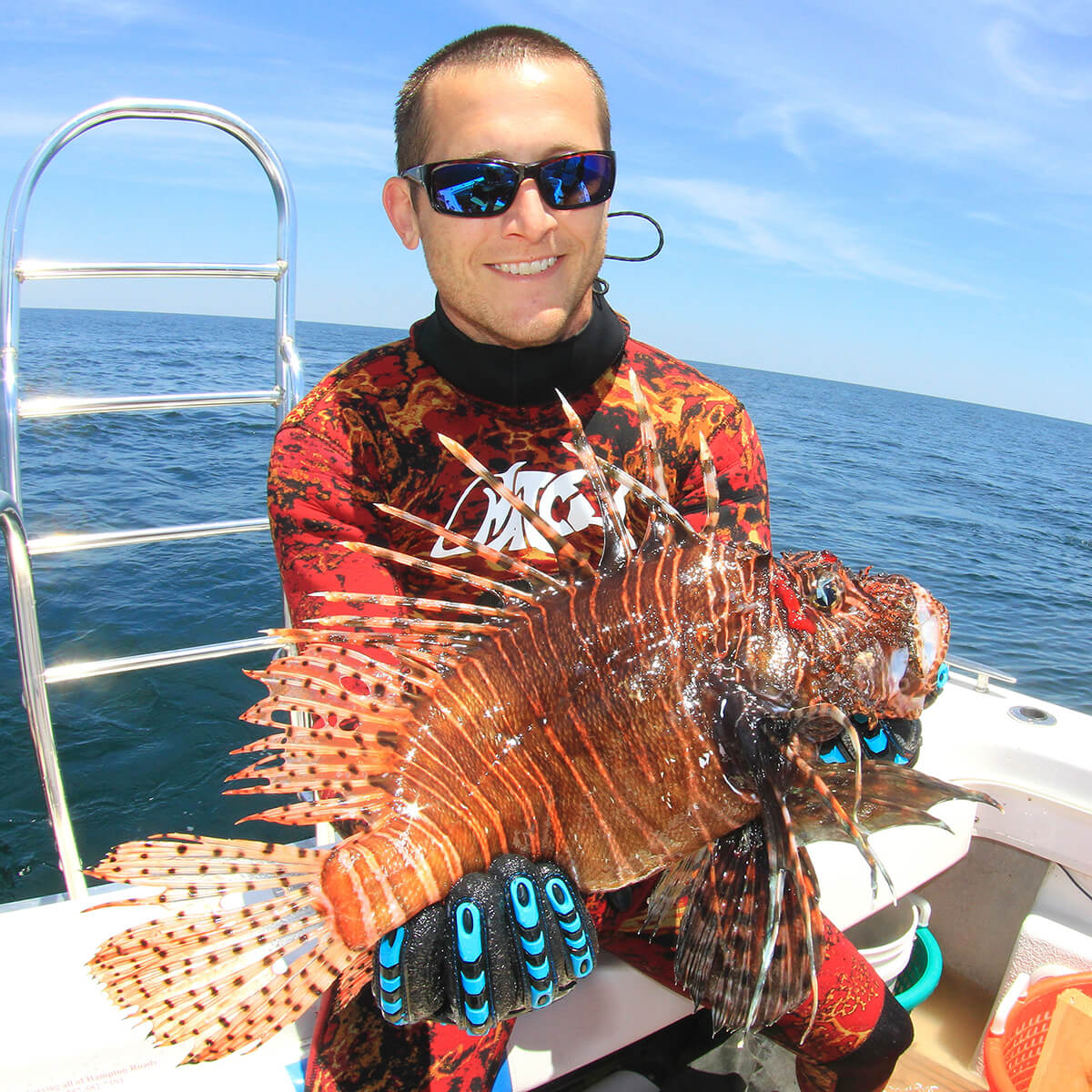 What efforts are you most proud of? I've played a small part in making lionfish and research cool! At least I think it's cool… Anyways, lionfish have been a gateway 'drug' to not only marine conservation and to the research world as a citizen scientist, but also an exotic and quite sustainable fishery. While a fishery implies that it needs to be managed to preserve the stock, in the case of lionfish, we want to deplete the stock. Outside of the research side of things, I'm probably most proud of being a part of creating a lionfish food market. Lionfish is an extremely desirable food fish that diners can't get enough of. This wasn't always the case. In the beginning of this 'ride', lionfish were often harvested by the hundreds or thousands and thrown out! That idea slowly shifted to selling to local restaurant's and markets at a very low price "to get them off our hands". With a great deal of outreach, education and marketing, lionfish have become that exotic fish that people will pay a premium for not only because it is that exotic tasty fish, but because its also helping the environment.
Anything else you'd like us to know? If anyone wants to take a closer look at thousands of lionfish, meet the divers who are out there hunting these invaders, and maybe even sample different preparations of lionfish from restaurants in the area, come to Destin – Fort Walton Beach, Florida, May 14-16, 2021 and be a part of the world's largest lionfish tournament, the Emerald Coast Open. Note that Lionfishdivers.com and Roger J Muller Jr of Muller Insurance have been huge supporters of this event in the past!
View Alex Fogg filleting lionfish at Gostoso Restaurant in Aruba